RECAP: 9/11 - 9/19 DIY Archery Elk Hunt
Colorado
Contributors to this thread:
Hi guys,
My first elk hunt concluded after an exciting chase of a herd bull the morning of 9/18, with an exciting week leading up to that point. The detailed story of my week is below...hope you enjoy the read...it's a bit lengthy. I ask that if you happen to recognize any of these places, that you use some discretion and keep them to yourself.
Day 1 - Monday 9/11 I arrived in Denver at roughly 10:30a. After a few stops to pick up gear I mailed to a cousin, I was on my 4 hour drive up north to the unit I was hunting. When I arrive at the forest service road that would take me up to where I planned my base camp, I realized it was a further drive up than I had originally thought...8.75 miles to be exact. The road was not pretty, and my stress level was high as I slowly climbed it for the next hour and a half before finally reaching my destination at roughly 10,500 feet at 6:30p. Views along the whole ride made it all worthwhile. I passed the last elk camp by about 2 miles before reaching my destination.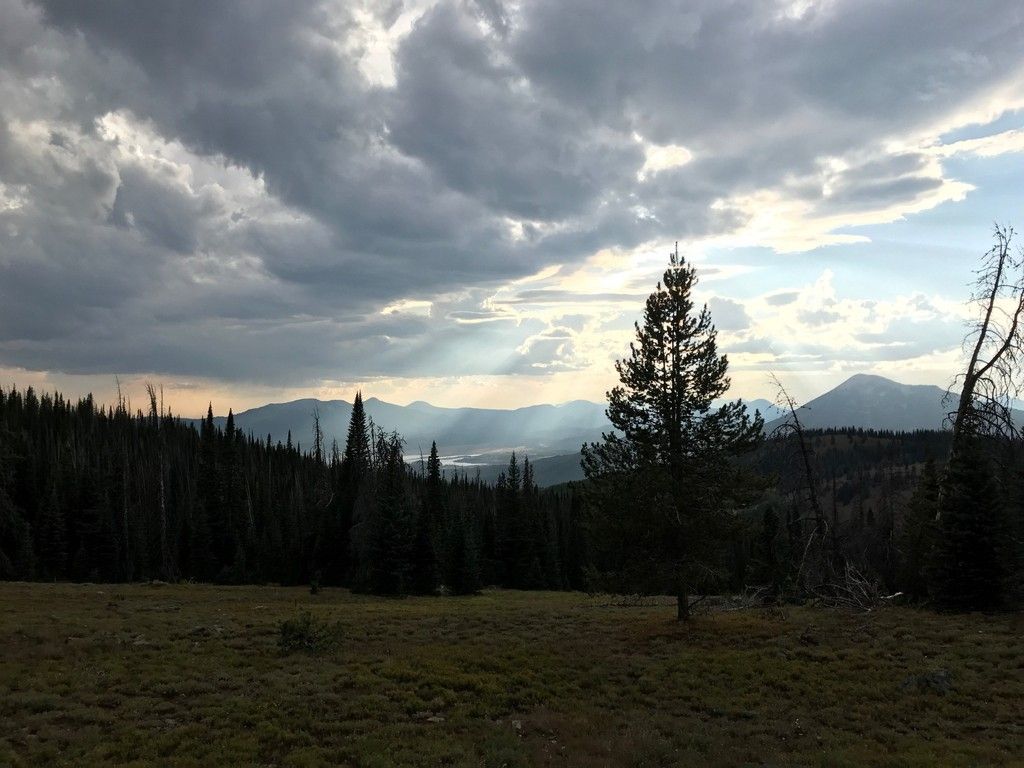 Amazed that I made it up there without encountering some type of major impassable obstacle, I set up camp for the night, and prepared my gear for the next morning. Never in my life have I experienced silence like up on that mountain...I could literally hear my heart beat, which was working overdrive to keep me oxygenated. I didn't experience headaches or any other altitude sickness, but I did notice I was having to breathe very deeply that first night to catch my breath while trying to fall asleep. After that night I was too tired to even notice anything other than needing to sleep.
Day 2 - Tuesday 9/12 I was hoping to hear some bugling near camp through the night, but didn't hear a thing until I was up and getting dressed around 5:30a, when I heard a bugle some distance away from the north side of the mountain. From where I was camped, I had to drop down a good 500-1000 feet before starting to hunt, based on the terrain around camp, which made for a tough start to the day, and even tougher ending having to come back up. That first day of hunting, I focused on the north side of the mountain where I thought there might be some water to sit on, and since I already heard a couple bugles down there, it was a no brainer. I found plenty of sign almost immediately on my way down, and also found a good watering hole. Wanting to explore this place, I stayed mobile, with a plan to do a semicircle down the northwest side, and back up the northeast side, with stops at points of interest along the way.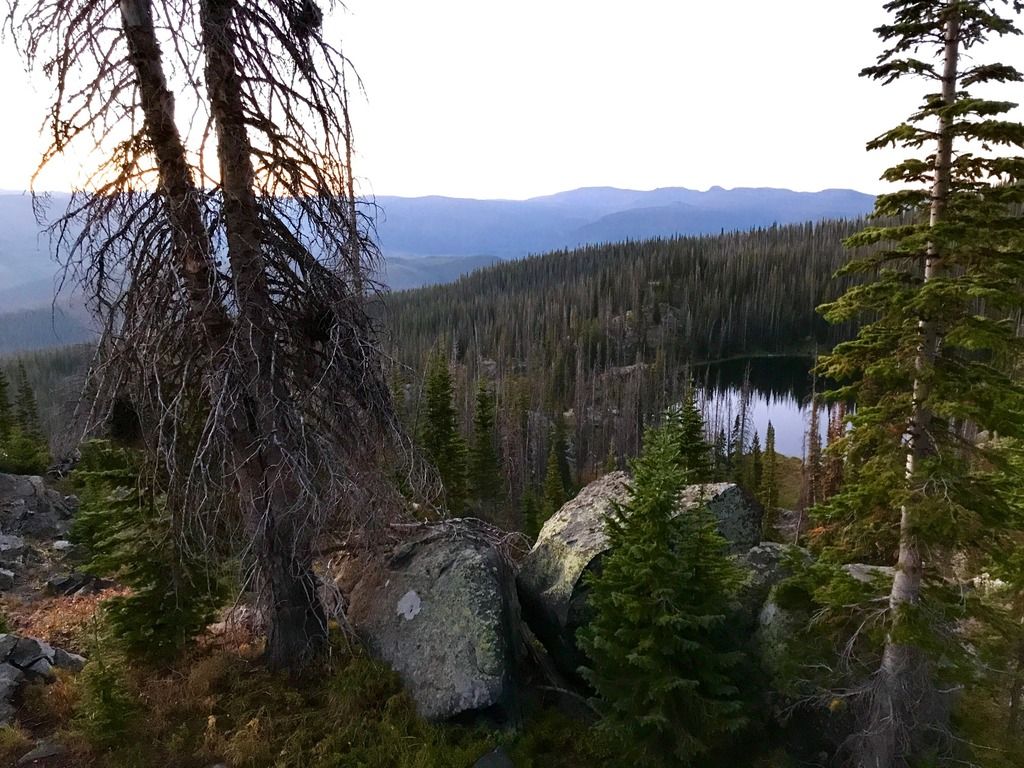 As I left the watering hole and started making my way up along some dark timber, I hit a steep slope which started starving me of oxygen. I decided to sit for just two minutes, not even taking my pack off, and leaning my bow against a bush about 5 feet behind me. I snapped the below picture with my phone, and started to roll to get onto my knees to stand up and keep going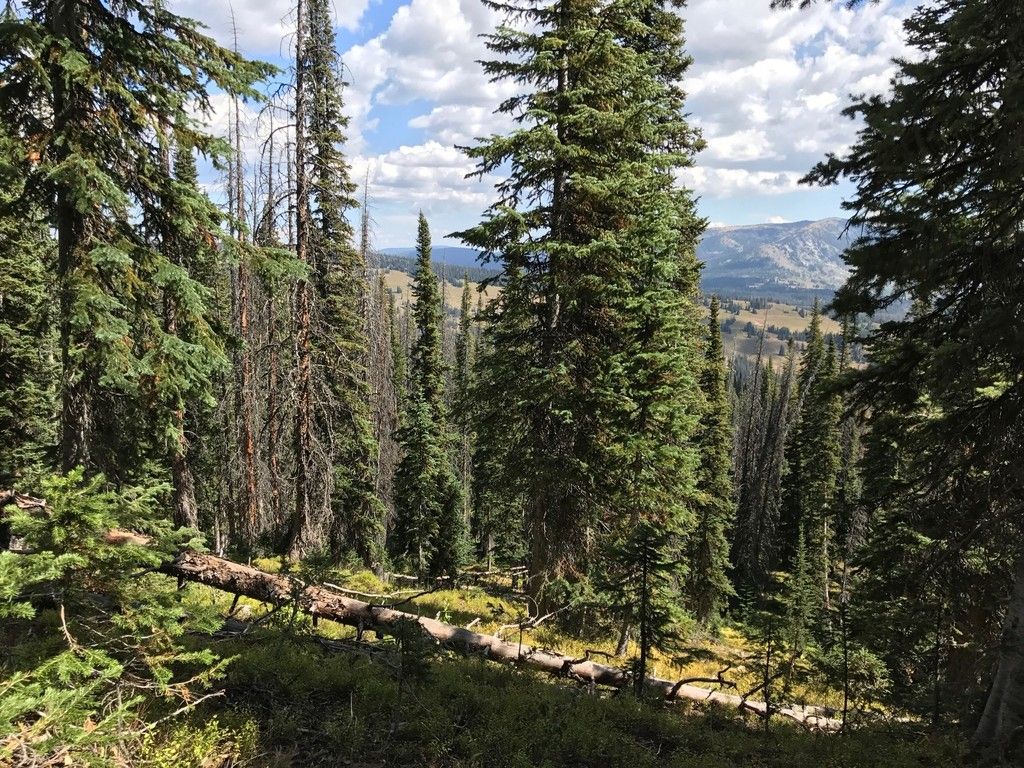 ...as I got to my knees, I looked up the slope and see a bull at 20 yards coming right at me. The wind was at my face the entire time, but he heard me move, turned and ran 5 yards to the right, up and over a lip in the ridge, and stopped. I could only see his rack over the lip, which showed me he was turning and looking from left to right, but didn't know what was there as the wind was in my favor the whole time...I started filming him with my phone, then almost immediately thought "what the hell am I doing?", and quietly slipped my phone into my pocket, crawled to my bow, and nocked an arrow. He wasn't a big bull, and I struggled to count 4 points on one side, but after about 5 minutes, he turned and started coming back to my left, stopping behind some brush almost directly uphill of me...eyes strained to see, but got 4 points on the near antler...shooter. I saw a lane 5 yards further to the left of where he currently was...he started moving to the left, and I called with my mouth to stop him as I stood and drew back, but he instead took another 6 or 7 steps before he stopped, again behind some brush. The wind remained good and not knowing what exactly what was going on, he slowly turned and headed back up the hill and out of sight. That was a cool encounter, but based purely on dumb luck. This was around mid-day, and I continued back up the mountain to see more of this country. I plotted a path that, on the topo, seemed to be the path of least resistance...well, it was the path of least resistance, but still resisted plenty. Lesson Learned: terrain is likely to be much harsher, steeper, and impassable than what appears on a topo map. My option was to backtrack 4 miles to get to the top, or scale the boulder field to get to the top, and back down to camp...I opted for the boulder field. Challenging, but the view was worth it.
I sat on some water later that evening until a thunderstorm pushed me back to camp. The forecast was now calling for rain starting Thursday around noon, and going through Saturday morning.
Day 3 - Wednesday 9/13 My original plan had me hunting the southern side of this mountain from day 1, which is what I opted to do this day, and then determine which side to focus on the remainder of the trip. At dawn, from the top of the ridge where I'd drop down the south side, I could see the lights of the elk camps plotted in a semi-circle about 3-4 miles out from where I was...I glassed the ridges and valley below me for about an hour without seeing or hearing a thing.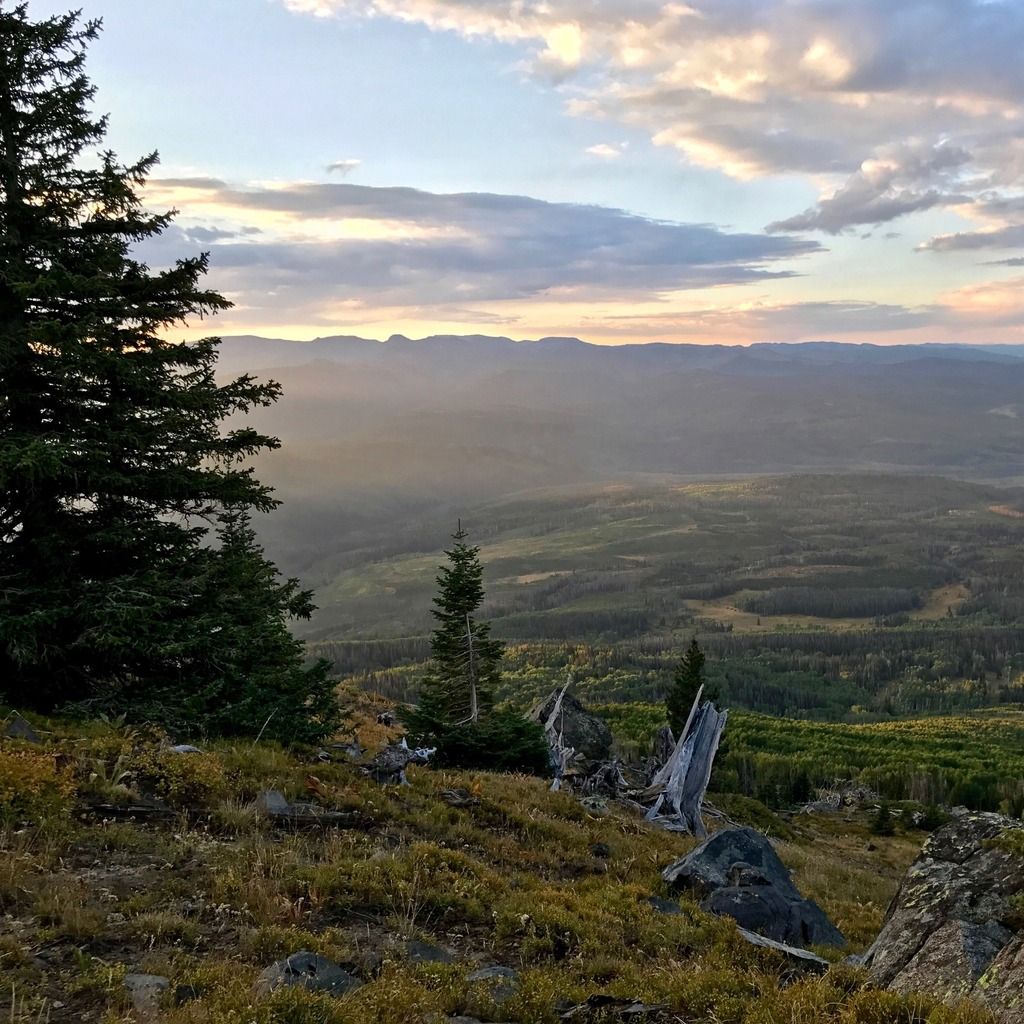 It was time to drop down the 1000 feet I needed to and start hitting the bedding/watering waypoints I had marked on the topo many months ago. I dropped down into the aspens, where I could see that the undergrowth had been heavily fed on, but the aspen stand was so big, there was plenty to go around for anything in the area. My first point of interest on the map was some dark timber that was split from the aspens by a draw, and pushed right up to the face of the mountain just 150 yards to the north. I stopped on the aspen side of the draw, and with the wind in my face, could immediately smell elk...I have never smelled elk, but I just knew what I was smelling was elk.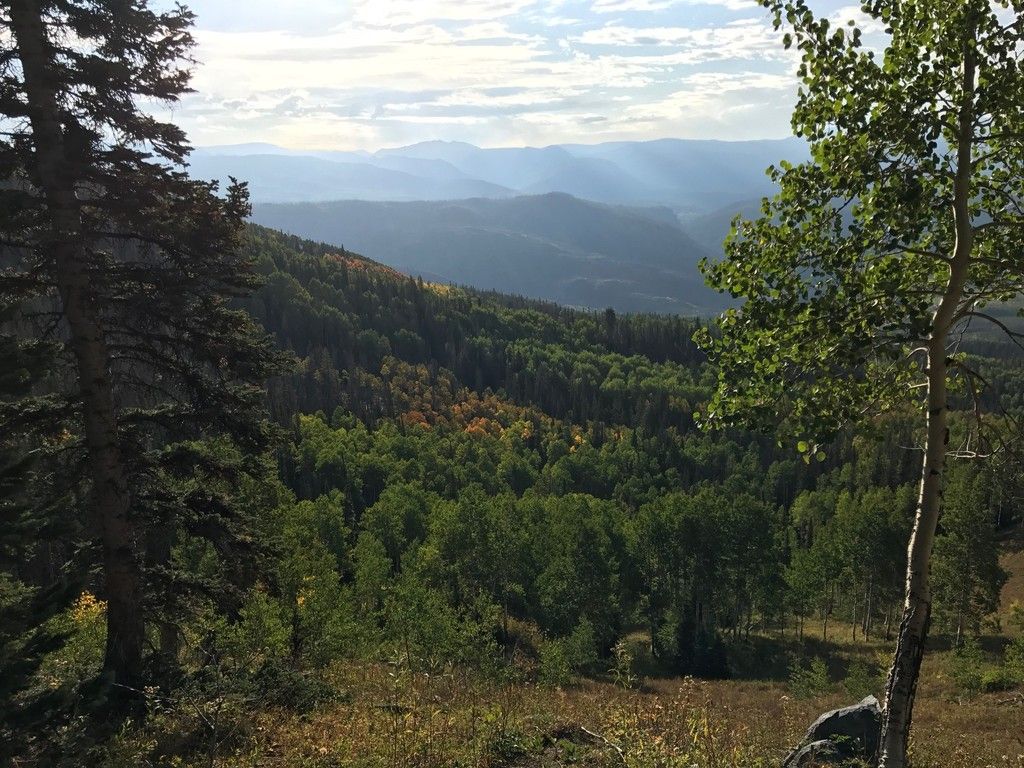 I was either in the vicinity of a herd, or on the outskirts of an individual's bedroom. With that, I let out a bugle towards the timber. The response was loud and prompt right out of the timber I had marked. I quickly dropped down, back up, and into the timber toward the bugle, which was still probably 300 yards away. As I moved into the timber, I let out another one to fine tune my bearing on the bull...again he responded immediately. I basically ran as quietly as I could to close the gap, and was stopped in my tracks to the sound of a tree being torn up within 60 yards, on the other side of 3 pine trees directly in front of me. As the bull raked, I slowly moved 5 yards to my left, and finally he came into sight...a monster bull tearing apart a pine tree that stood about 25 feet tall, with a 10 inch diameter...the top of it swayed back and forth, and I had to stop to pick my jaw up off the forest floor. Unfortunately he was facing me directly, and would rake for a couple seconds and look up, and kept this pace...this didn't leave me much room to move. The wind was good, and I wonder in hindsight if I could've slowly moved into a better position for a shot. I waited him out, and he started back up the hill and away from me, so I bugled again...this turned him around again directly facing me, and raking another tree...still no shot. He bugled and chuckled about 3 or 4 times, which at that proximity, sent vibrations through my body. My only option was to wait him out and hope he came down 15 yards to the left of where he was, which would've put him within 30 yards, in a huge open lane. He started moving left, but of course, turned directly away from me about 3 steps before hitting the clearing, and all I saw was the ass end of him, with his monster rack walking away slowly. I again bugled and cow called to see if I could turn him back, but he responded with a final bugle once he was out of sight...heart breaker. I didn't even count his points, but could clearly see he was a beast of a bull, and I stumbled into his bedroom. I have video of that last exchange, but not sure how to easily upload that. Here's a picture of the tree he was beating on.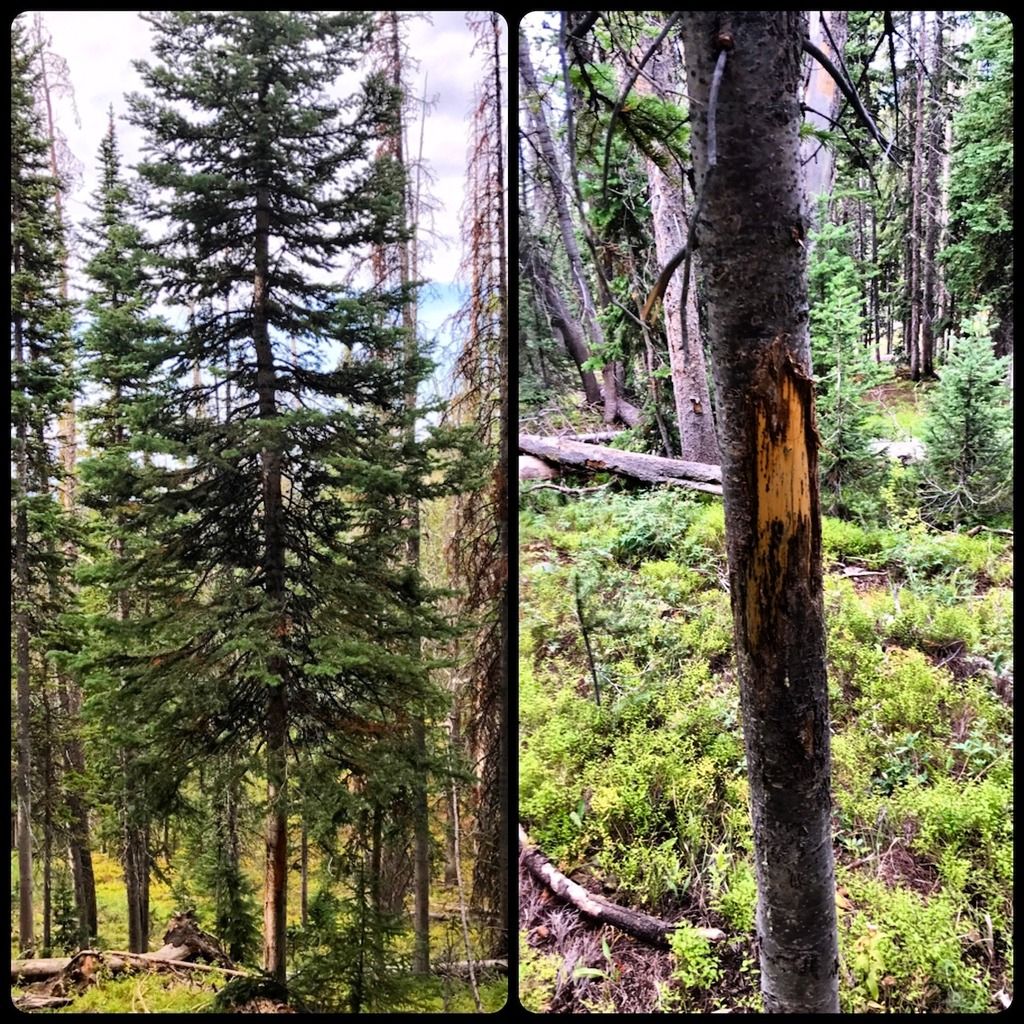 As he walked away and down, I started off quickly up the ridge to try to get ahead of where I thought he was going, but never crossed paths with him again. The rest of the day was spent kicking up muleys and exploring the valley and ridges. The climb back up was a killer...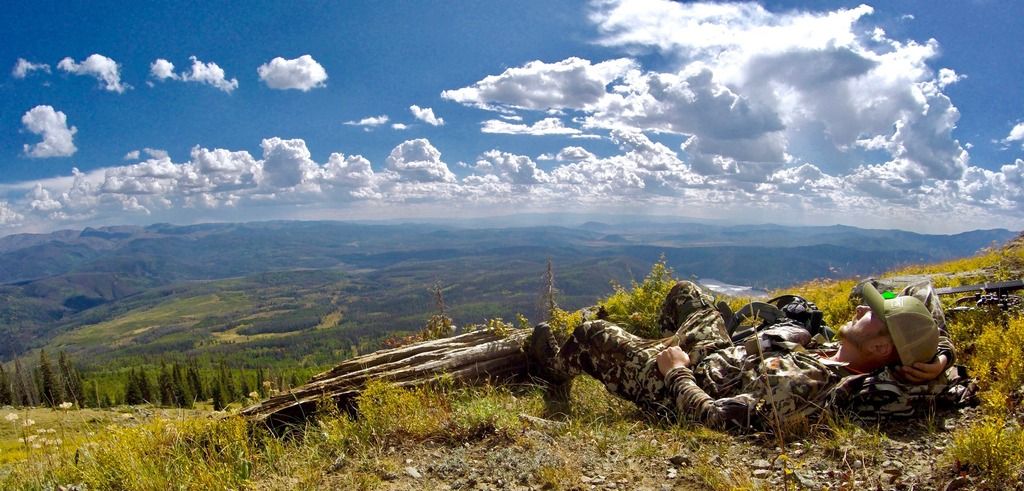 The weather that day was calling for rain coming in the next day starting at 11a, then turning to snow overnight.
Day 4 - Thursday 9/14 I dropped back down on the south side again in hopes that bull was back in his bedroom. He wasn't, and I ended my hunt at around 11a. Based on the forecast, I made the tough call to drive down off the mountain as I was sure I'd get stuck up there in the truck I was in, or would seriously damage the truck or myself trying to get down with even the slightest bit of rain or snow...not a risk I was willing to take being up there alone. I dropped down reluctantly, not knowing exactly where I was headed. It was a bittersweet departure from what is a truly awesome place.
On my way back towards Steamboat, I saw a guy pulled over randomly on the side of the road, and getting ready to hunt. I was so distraught about my situation, and after not talking to anyone for 3 days, I made a U turn and pulled up behind this guy to talk for a minute. I explained my situation and where I planned on going, in hopes of getting some advice...he immediately told me I'd never make it up the road I planned on going up to my secondary location. He probably saw the intense disappointment on my face, because he then grabbed my phone, and dropped a pin on a piece of public land that is surrounded by private...a honey hole of his. Eddie, if you're on this site, thank you man...you were a huge helping hand when I needed one.
I got to the place, set up camp, and got ready for bed. It rained good that night.
Day 5 - Friday 9/15 I was woken up at 4a to the sound of a bull screaming his head off within 100 yards of camp. I then heard bulls sounding off from literally every direction around camp...close, far, up, down. I got ready and started off up the game trail to the top of the ridge. At this lower elevation, the brush was much thicker, and my clothes and boots were completely soaked within the first 15 minutes, just from pushing through all of it. At the top, I heard a bull bugling from 3 ridges away, and started giving chase...as I got closer, he seemed to get further away, and onto private land. I then heard a bull bugling near where I came from the top of the original ridge...I again ran back, only for them to all go silent. The original bull started up again, and we bugled back and forth at each other for 30 minutes or so, but he didn't budge. I snuck around the rest of the public land and headed back to camp. That afternoon and night called for heavy rain and thunderstorms, and so with all my gear already soaked, I opted for a hotel room in Craig to dry off and get ready for the next day. A large pizza hut pie and dozen wings later, I was sound asleep....
Day 6 - Saturday 9/16 ...and overslept. I slept through 3 alarms and woke up at 6:15a. By 6:25a was out the door and flying back toward Steamboat...by 7:20a I was on my way up to the top of the ridge. The night before, I looked at the map in detail, and tried to pinpoint where I thought the bull from the previous day was. On my estimate, he hadn't made it to private land yet, and might've been held up on a bench between two creek beds where I thought he was bedding up near water. The plan I set for the day was to skirt the private land along the top of the ridge, and then quietly drop down to within 100 yards of the bench from the top before I started any calling. After slogging through some thick brush for an hour and a half, I hit the spot where I would drop down. As I started dropping in, only about 200 yards from where I planned to start calling from, I kicked up a small bull and a cow. I cow called and stopped him within eye sight, but he wasn't interested and slowly walked off. I then proceeded to my original location, and when I got there, I randomly looked down and to my right laid a 6 point shed...I was in the right area I guess, but nothing else was to happen this day.
I made it back to camp, where a passerby saw the shed and pulled over to talk. This guy was from Indiana, and had been out there for 3 weeks hunting elk, and wound up shooting his bull the second day of his hunt, after hiking his camp in 11 miles...long story short, he offered his assistance packing any animal out that I shot...he just wanted to be in the mountains, and didn't care about hauling weight. We exchanged phone numbers and parted ways. That night I again refueled my body in Steamboat with a nice burger, onion rings, and fries from the Back Door Grill, which I highly recommend to anyone in the area.
Day 7 - Sunday 9/17 I again woke up with a bull screaming from private land down in the valley, got ready, and snuck down about 300 yards from camp to see if I could coax him out of there before making the trip up the ridge in the opposite direction...no luck. As I was doing this, I saw a truck driving up the road, right to where I was camped. I made my way back up to grab the rest of my gear, to find two other hunters that were planning on hunting this same 600 acres that I was in. The guy asked where I preferred to hunt, as you could go up and over the first ridge to a good chunk of those acres, or walk along the top of the ridge, which didn't leave a ton of room on either side of it before hitting private land, but enough to move a bit. I wasn't quite sure, and told him that we could walk up together to make noise going in only once, and we could split at the top...there was no trail to follow...it was truly bushwhacking. I go to grab my pack, and the two of them set off straight up to the top without saying another word. I assumed they'd wait a second until I got to the top so that I didn't follow them in the direction they were going...wrong. I got to the top, and no sign of these guys, so I guessed on a direction and went left to walk the top of the ridge. Not sure if I'm in the wrong or not, but that seemed sort of an a-hole move...we could've ruined each other's hunts that way, but no way to avoid it now. They must've gone another direction, because not 200 yards into the ridge, I kicked up another really small bull with at least one cow. I stopped the bull with a cow call, but he was too far out and slowly moving away to even get a good look at him. The ridge didn't take long to walk and explore, and I didn't hear a thing the rest of the morning...at the time, I thought this was my last hunt, in order to leave enough time to pack out through Monday if I had shot anything...I figured my 2017 hunt was over, and dropped back to camp.
I had wanted to do some fishing while I was out there, so I packed up camp, and was going to set up in another location, and go hit a local river for some trout. On the way down, I ran into the guy from Indiana and talked for a bit. He was done scouting for the day, and decided to join me for what was his first fly fishing experience. We hit the river in the afternoon, and both got into some nice fish in the few hours we were there.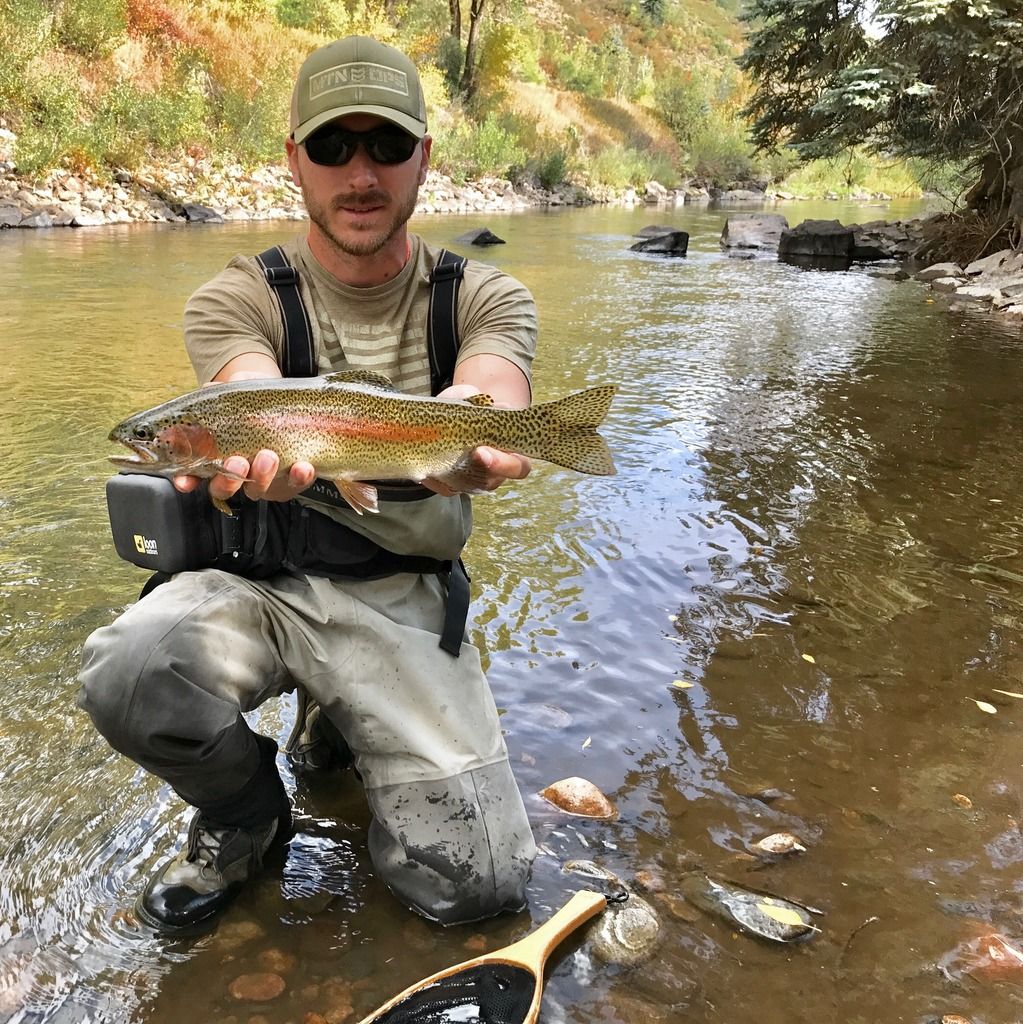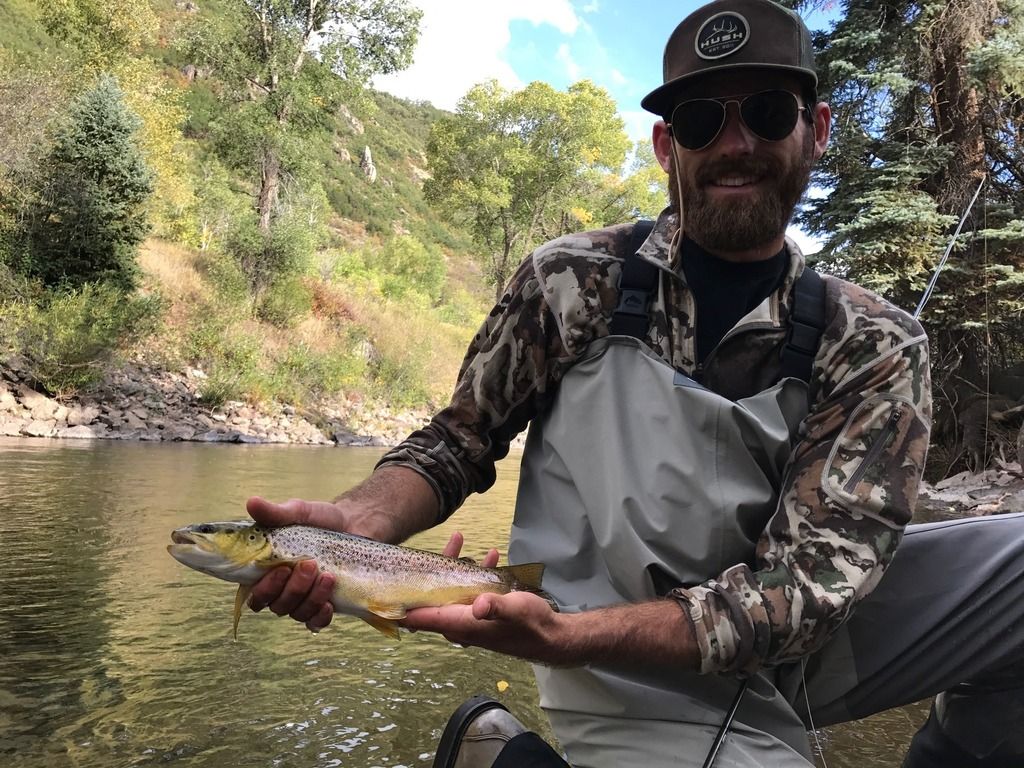 On the way back, he told me that he had actually been scouting in the area where my new camp was for that night, and that he saw a big bull with cows in there just that morning. He again offered packing assistance, and said that we should make one last run to fill my tag in the morning. He would call for me...how could I decline that?
Day 8 - Monday 9/18 We both woke and ate a good breakfast, and were on our way to the top of the first ridge in the dark. On the way up, we kicked up this muley, which was not spooked in the least bit, despite us making plenty of noise...wind was of course at our faces the whole time. He actually mulled around us for a good 10 minutes as we were making our way up, sort of pacing us uphill. He was within 25 yards and broadside at least 3 different times...if I only had a muley tag.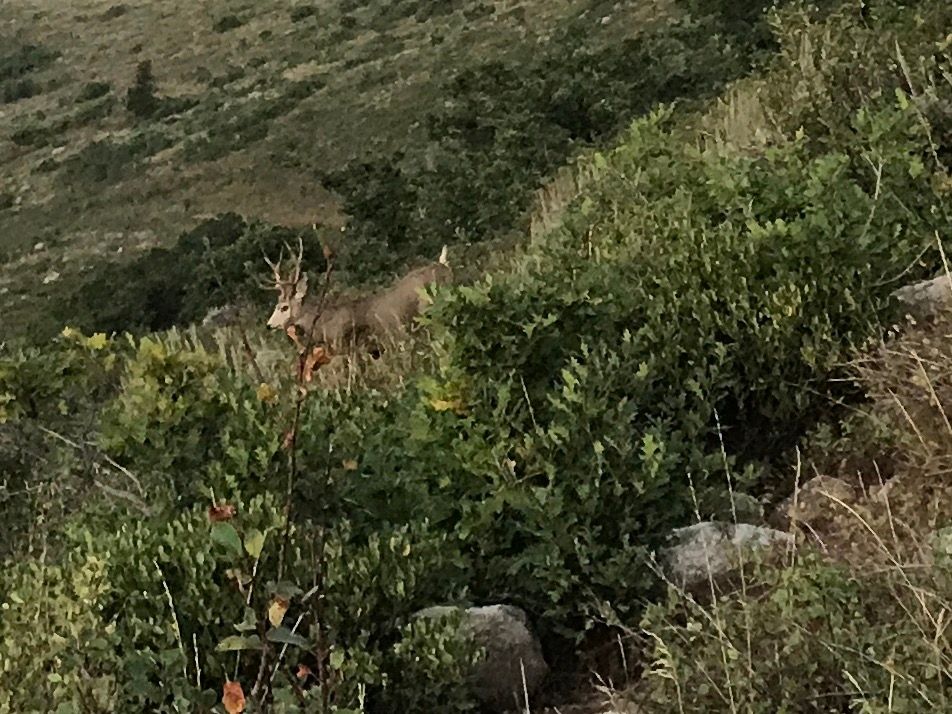 Once at the top, we checked wind, which was blowing from right to left, and let out a bugle, with a quick response from the bottom of the draw below, and to the right...game on. We were within 300 yards.
We quickly moved across the top of the ridge before dropping down into the thicker stuff, and gave a call. Another response, but actually sounded further away...our immediate thought was herd bull moving his cows quickly away from us. We dropped into dark timber towards the creek at the bottom where we heard him last, and heard him bugle again, unprompted, going up to the second ridge across the creek. Again, we chased across the creek, and up. We heard him at the bottom near the next creek, and started down. We wanted to wait until we were within 100 yards before we called again, so we went silent, and crossed the next creek assuming he did the same and was heading up the third ridge. At the top of that, we hadn't heard him in quite a while, and guessed that he never took his cows across that second creek, and instead was side hilling it upwind with them...our gameplan was to drop back down where we just came from, a bit upwind from where we crossed, get 100-200 yards up from the creek so we could hear, and then let a bugle go. As we crossed the creek back to where we came from, we went into stealth mode, creeping up the very steep slope as quietly as we could...we could smell elk. We got to where we wanted, and let a bugle fly...the chuckle response came from the creek bottom, probably no further than 50 yards away from where we originally crossed back over. We started quickly dropping back down to close the distance, now getting into some really steep and nasty dark timber, full of blow downs. My buddy thought he caught some movement at the bottom, but there was now no good way for us to give chase on that slope, and my time that morning had run out. We chased that bull for 3.5 miles that morning before turning back, but it was one hell of an exciting chase.
My hunt ended at that point, with an unfilled tag. But, filling a tag was only one of many goals I set for both the preparation of the trip, as well as what I actually wanted to experience out there...I met all my others, and then some, so this trip was a huge success in my mind. I was finding bulls in spots that I had tagged on a map months before, having never set foot in those places. Not seeing anything was my biggest fear going into this, and I either saw or was calling to bulls every day but one, with a real chance at arrowing a true giant that just didn't work out in my favor.
I hiked probably 40 miles over the course of the week, and was covering 80-125 floors of vertical elevation per day, which may not be a lot to some, but for a first time elk hunter, it was an eye opener. Maps don't quite convey the scale of the land, or the severity of the slopes that are to be encountered...boots on the ground is the only way to truly understand what's in store for you. I was eating upwards of 3000 calories per day, and wound up losing 6 pounds over the course of the week.
I want to thank all those on this site that have offered guidance and tips, as well as the older information I was able to access through this site to help plan the trip, and set expectations. I probably can't do a trip like this every year, but I assure you, I'll be back in September 2019...guaranteed.
Thanks for reading.
Yup. You're hooked good now!
Awesome photography, bud.... Watching the top of a good-sized tree going through great big arcs is one of those things that will stay right up front in the memory banks 'til you've got no memory left!
Awesome story. Too bad you couldn't connect, but it's all part of the game. You hit your goals and that makes it successful.. Tag soup should have a decent taste this year.